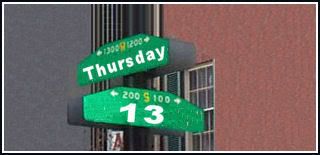 Thirteen Reasons why Philadelphia is Great
or at least a great place to live in and around. And I will try and stay away from the cliches, so no mention of Rocky, Cheesesteaks or soft pretzels.
1.
Center City is walkable
: Its small, so you can go from the Art Museum down to Old City and see lots of things along the way, and not be totally exhausted. New York is just too big to enjoy.
2.
Tastykakes:
They were invented here, they are still baked here and if you need an early Valentines Day gift, they can be shipped from here.
3.
The fans really love there sport teams
: We are so starved for a winner, that we attach ourselves to any team that could win and just love the hell out of them.
4.
Its a Blue City
: Pennsylvania has been swinging Democratic in the last few elections, but Philadelphia has been liberal and democratic for a long time. How many places do you know where 5000 to 10000 people will show up to see that hack John Kerry just because he was appearing with Bill Clinton?
5.
Mayor Street can't get elected again:
Though honestly, I still do not know how he has been elected as Mayor not once, but twice.
6.
Commuting:
The regional rails, for all there troubles, run from all of the outlying neighborhoods, including parts of New Jersey. So, anyone that can buy a train ticket can work in the city, enjoy the plays and eat in the Restaurants.
7.
The way its setup makes it easy to get in and out of town itself
: I can meet Mrs Duck for Happy Hour, and still be home in under an hour because there are 3 different ways out of the city to make your way north. Just dont try and do it between the hours of 3pm and 6pm.
8.
The Girls are hot
:
9.
All the History
: for History fans, or majors like me, this place is sick with Historical things. The Liberty Bell, the Declaration of Independence and the Constitution all have representation and Museums dedicated to there foundation and story. And those are the things everyone has heard of.
10.
Grace Kelly
is a favorite daughter. She is not only beautiful still, but she never forgot about her home. Her famous wedding dress hangs in the Art Museum in Center City.
11.
The Penn Relays
: One of the largest track meets in the country, as well as one of the oldest. Its been running since about 1895 and draws in world class athletes of now, as well as many future greats from some of the top high school programs in the United States, Carribean and Canada.
12.
Its not overwhelming
: I have been in Manhattan and if you get turned around, you just feel like your lost. In Philadelphia, its compact and small enough, at least the downtown region, that you never feel overly lost or over your head. And this holds true even drunk.
13.
The Roast Pork Sandwich from Tony Luke's
: You can keep your greasy cheesesteak, especially if you slop cheese whiz on it. A Roast Pork sandwich with Broccoli Rabe is heaven on a long roll.
So, tell me why your place is great? Maybe I will visit, though soon, there will be the cruddy things about Philadelphia, so don't book your reservations yet.
Get the Thursday Thirteen code here!


The purpose of the meme is to get to know everyone who participates a little bit better every Thursday. Visiting fellow Thirteeners is encouraged! If you participate, leave the link to your Thirteen in others comments. It's easy, and fun! Be sure to update your Thirteen with links that are left for you, as well! I will link to everyone who participates and leaves a link to their 13 things. Trackbacks, pings, comment links accepted!

View More Thursday Thirteen Participants


Old Man Hancock
(who hit the wrong button, so here is there link)