And its a tandem Random Friday, as Miss Kittie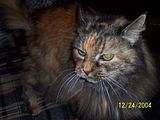 has decided to curl up next to the laptop.
And away we go
1.Daily Feed 7/18/06
-Preston & Steve-
Wmmr.com
2.Want to Be Free (Live)
-Goo Goo Dolls-
Live in Buffalo
3.Beautiful Day
-U2-
Best of U2 1990 to 2000

4.Drunk Show, Part II
-Preston & Steve Daily Feed-
Wmmr.com
5.Fairytale of New York(Christmas in the Drunk Tank)
-The Pogues-
???
6.The Sound of Silence
-Simon & Garfunkel-
The Essential Simon & Garfunkel
7.We Are the Champions
-Kanye West-
Paid in Full Compilation CD
8.Shut Em Down
-Public Enemy-
Def Jams Greatest Hits
9.Where are you Christmas
-Faith Hill-
How the Grinch Stole Christmas
10.Hey Jealousy
-Gin Blossoms-
New Miserable Experienc
e
Favorite Song-Beautiful Day by U2:surprise surprise I know, but how can you not adore U2?
Favorite Xmas Song-Fairytale of New York by the Pogues. The Pogues are one of those underapreciated Irish bands. They had some great songs over the 80s and the 90s. This is one of those Christmas songs that you can listen to year round. Well maybe not in Mid-July.
Least Favorite-I like em all, but if I had to chose, I would say We Are the Champions. The song has a great sample, but it seems like Kanye might have missed the mark a bit.
Seen Live-U2 & The Gin Blossoms, who I actually just saw last year, and they still sound good. I just dont think they can write anything good anymore.