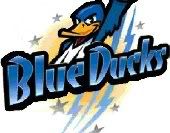 Playing in the Jeans & T-Shirt division of the Woodstock league, please give a warm welcome to your starting lineup!!! (insert fake crowd noise here)

At QB from Seattle and Boston College-Matt Hasselbeck

at RB's, a New Orleans Favorite Son, from Atlanta, Warrick Dunn & out of Virginia Tech and playing under a new offensive coordinator, Kevin Jones.

At wideouts, still suffering from a slight hamstring pull, from Pittsburgh, Hines Ward. His running mate, also an ex-quarterback, Anquan Boldin.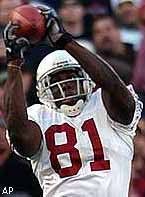 Your Tight End, Heath Miller

And possibly the most important player, you know him, you love him, Josh Scobee at kicker.

The defense is The NY Giants

Possibly starting for Hines Ward is Ernie Wilford. The rest of the reserves are Marc Bulger, sentimental pick Brett Favre, RB of SF, Frank Gore, the banged up rookie Lawrence Maroney, return specialist, DeAngelo Williams, Wideout Mark Clayton, of Baltimore, not the old Mark Clayton who was catching passes from Dan Marino. Last but not least, Braylon Edwards, still rehabbing from a knee injury.

There you have it, your 2006-2007 Blue Ducks! If anyone has an opinions on who I should start, let me know, since I am still in a quandry at WR.